Cad-Cam
Our highly technical Office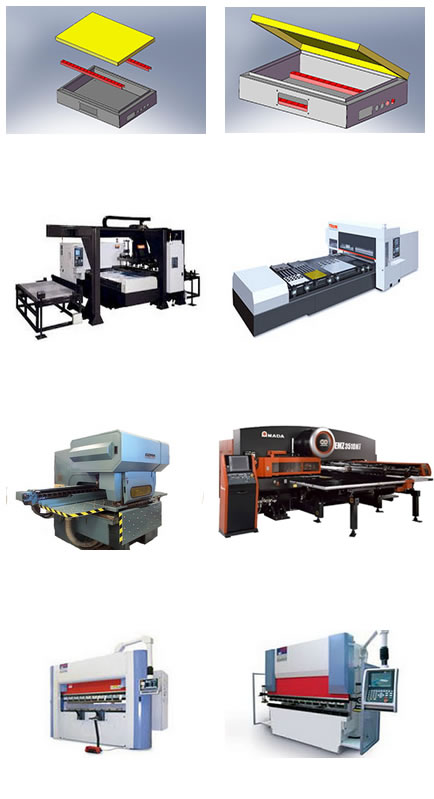 me special offers advanced graphics and 3D/2D CAD/CAM can optimize every single design process, development, cut, fold, and send via the internal network operations to our CNC machines of last generation, in addition we can from drafts or sketches of the customer, to create finished projects.
Laser cutting
We have laser cutting systems able to produce details of any shape and thickness up to 20 mm for iron, 12 mm for the stainless steel 4 mm for aluminium. Our laser cutting machines are equipped with automatic load/unload cell can work max formats from 1500x3000 mm.
Punching
We have a CNC punching machine with working 2000x750 mm with thickness up to 5 mm for 3 mm for steel and stainless steel, with this machine we can make (after completion of the punch and matrix) also works drawing, flanging and small deformation of the sheet.

Punching machines Amada elettricche, extreme reliability.
Consubu brief with the new engine technology Amada that almost 7.5 Kw for machines with the power of 30 tons. and 4.5 Kw for those from 20 tons.
Possibility of mounting auxiliary devices as P & F and units integrated thread. Thanks to scrap aspiration, with appropriate tool, you get extremely fine quality roditure.
Bending
Among the various processes that are carried out in our carpentry, the fold is between those of particular importance to give the desired shape to the sheets. We provide a high level of service, metal bending, with various NC benders from 3 m to 4 m 100T 220T.
Assembly
For maximum accuracy we assemble all details on work surfaces milled. Making wire welding, Mig, Mag, Tig and electrode by excellent finishes on stainless steel parts, using grinders Sanders and polishers, we also for specific processes:
radial drills
Automatic Threading machines
Electric welders
CALANDRA
PIN application machines
riveting machines
100 TON hydraulic press
bendsaw machines
We can also assemble and handle even large structures with double girder bridge crane with a capacity of 5t.